Our made to measure curved stairlifts that can travel around corners, across intermediate landings and even up spiral staircases.
All of our curved stairlifts are made to measure for your individual staircase and will be installed within 2 – 3 weeks of our survey.
We include a photo survey of every curved stairlift to visualise your new lift in situ before it is installed.
Our curved stairlifts can also be fitted with a range of optional extras to make them even easier to use.
Benefits of a Pollock Curved Stairlift

Quick Installation
Typically installing your stairlift takes 2 - 3 hours and there should be no requirement to redecorate once your lift is installed.

Full Warranty
Our stairlifts are fully guaranteed for 12 months. In the unlikely event of a breakdown our support team are available 24 hours per day, 365 days per year.

A Perfect Fit
Our stairlifts come both straight and curved designs to fit the available space in your home.

Back-Up Power
In the event of a power cut, your stairlift has a dedicated battery back-up which will always return to the ground floor.

Service Agreement
Service agreements are available post installation to ensure that your stairlift is serviced and operating safely for years to come.

Expert Design
Our range of stairlifts has been created to suit different needs and budgets using knowledge gained from users, healthcare professionals and our own experience.
Standard Features
Fold up seat, arms and footrest
Battery back up
Retractable seatbelt
Two remote controls as standard
DC power as standard
Choice of three seats
Choice of rail colours
Twin Rail Specific Features
Features
Tightest inside curve on the market
Max. user weight standard system 18st
Max. user weight with HD kit 21½st
Optional extras
Powered swivel seat: To automatically swivel your seat round so that you exit onto the landing safely.
Body Harness: Designed for those who need extra support.
Powered footplate: To maximize free space, you can automatically fold up the footplate.
Single Rail Specific Features
Features
Standard weight limit of 21.4st
Slim and stylish single rail design (less than 3 ¼" in diameter)
Optional extras
Powered swivel seat: To automatically swivel your seat round so that you exit onto the landing safely.
Turn & Go: Developed for very narrow curved staircase.
Active Seat: This unique and patented development provides assistance for those users who would like some additional support when getting on or off the stairlift.
Unique Illuminated footplate: When this powered footplate is unfolded, it is automatically illuminated.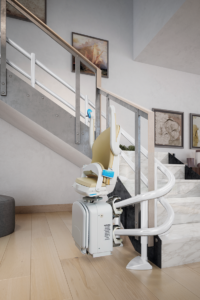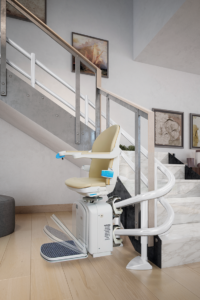 Good reliable company that gave me good and helpful advise.